The premise of countless sci-fi novels and cheesy made-for-TV films, bodyswapping is an odd concept. What would it be like to live in someone else's body for a day? Who would you be? Perhaps a world-famous athlete competing at the Olympics? The president of a large country, calling the shots behind the scenes? Would you make yourself taller, stronger, or maybe even miniature-sized?
Up until now, we've only been able to imagine what it would be like to truly swap bodies. But, it's 2017 folks, and the future is now.
The goofballs at Good Mythical Morning recently tried out new virtual reality technology that makes it possible to feel what it's like to swap bodies for the first time.
The lifelike nature of virtual reality is difficult for the human mind to comprehend, as evidenced in this hilarious montage.
First, the hosts test the technology out on a mannequin. Link is the guinea pig, as Rhett pokes his virtual body with a number of random items, including a toilet brush. When the live snake comes out to play, the game is officially over.
Rhett tries out the technology afterward with similarly ridiculous results. Among the things he gets poked with are a ball bat and a kitchen knifw!
Next, the hosts decide to try out the technology with one another.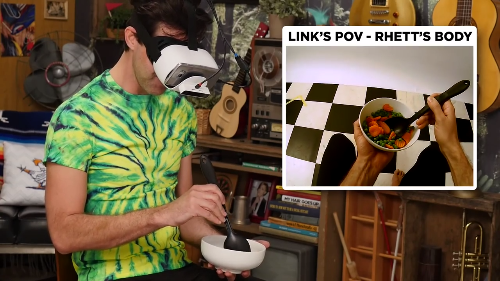 This time, the two friends quickly try out more practical applications for virtual reality bodyswapping. While Rhett eats a bowl full of peas and carrots, he sees Link eating candy. Perhaps somewhat predictably, the experience proves bizarre for both participants. Rhett quickly finds he doesn't want to eat any more chocolate, while his friend wants endless amounts of veggies. Could this be the missing piece for parents all over the world who want their kids to eat healthy foods?
The fun and games continue as the video progresses, with the hosts playing a puppy. Do you think the sensations experienced through the virtual reality headset are enough to trick the viewer? Watch the video to see what happens!
Can't get enough virtual reality videos? Check out another of people playing with fake dogs in the app.